Get Green! How to Grow a Beautiful Lawn Your Neighbors Will Notice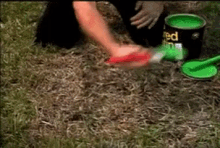 There is always one house on the block whose yard could use a little love. Don't let this be you! After the snow melts and the leaves are raked, you can be left with a mess of a yard. No worries! We have some tips for you to get your lawn looking bright and beautiful before summer. You'll have that Perf-A-Lawn look you've always wanted in no time.
Prep, plan, and prep again. The key to any successful plan is to be prepared. This is especially true for bringing your lawn to life. Be sure to remove all weeds prior to planting to prevent soil from clumping. We read an interesting tip from HGTV that many people may overlook. They emphasized the importance of testing the pH of your soil before planting any seeds. If your soil is too acidic or alkaline, your plants will not receive the proper nutrients they need to survive. It is important to know if your flowers and grass will thrive in the soil they are being planted in, and correct any pH issues before they cause damage. Buying different products to revive your yard can be expensive, and testing the pH of the soil beforehand can not only save you money but eliminate time and frustration.
Our Operations Manager passed along some great tips to start your yard off on the right foot. If you are planting a new tree or trees in your yard, be sure to research how quickly that tree will grow and to what size. Use that information to determine the appropriate distance from your house to plant it. Planting too close to your house, driveway, or deck, will cause problems in the future and may result in needing to remove the tree! Also, if you recently moved, it helps to take a walk around the neighborhood for the first year and pay attention to which plants do really well in your area. This will help you get ideas for what you want to incorporate into your own landscaping!
Keep it local. Our agent, Susan Dey, gave us a great tip for boosting your curb appeal in her latest newsletter. For quick and lasting results, opt for native plants, which are plants that occurred within a particular region before colonization. Native plants are very low maintenance because they are suited to your location's natural rainfall and temperature. Not only will native plants save you time, but you'll spend less money running the sprinkler and buying toxic pesticides and fertilizers to help them grow. Below are a few examples of plants native to Pennsylvania based off environment and weather, according to the Pennsylvania Department of Conservation and Natural Resources:
Sunny/Dry
Eastern White Pine

Sassafras

Black-Eyed Susan
Sunny/Moist
White Oak

Bee-balm (great for attracting butterflies!)
Shady/Dry
Shady/Moist
Christmas Fern

Jacob's Ladder

Wild Geranium
For a complete list of Pennsylvania native plants visit https://www.dcnr.pa.gov/Conservation/WildPlants/LandscapingwithNativePlants/Pages/default.aspx
Not too short, not too long, just right. No one likes grass that is so high it feels like they are walking through a jungle, so be sure to mow your grass regularly on dry days. You also want to avoid cutting your grass too low, otherwise known as "scalping" your lawn. Grass that is cut too low is exposed to disease and has a higher risk for discoloration and decay. Cutting your grass too short can also expose soil to sunlight which causes weeds to overgrow and tangle with the roots of your grass. Make sure your lawn mower is set to the correct height and that the blades are sharpened to avoid these pitfalls.
Keep it simple. Creating a beautiful exterior for your home doesn't always mean planting grass, trees, flowers, etc. In fact, a gorgeous rock bed is a great alternative to plants that will give your garden some extra flare. Stones are a great low-maintenance option for busy home-owners. However, you want to be careful when selecting what stones to use. Individual stones should be large, smooth, and round to give your rock bed a polished look and avoid creating rock dust which can cloud your garden and aid in the growth of weeds.
Call a professional. For home owners who aren't keen on diy projects, or who simply don't have time to tend to a garden, having your lawn treated by a lawn care company may be the best option. Our Operations Manager had a great tip for those who choose to use a professional lawn care company. "We were able to get a discount on our package because we joined a company that a few of our neighbors use! My piece of advice would be to price out lawn treatments from local companies and ask for discounts if you and a neighbor sign up! We found that we spent just as much money on store bought lawn treatments as we are having a professional company come to treat our lawn."

Increase your home's value. Improving your home's curb appeal is not only aesthetically pleasing, but it also increases your home's value. Some people may find gardening to be tedious or unimportant, but the financial benefits can be huge especially if you are looking to sell your home. A home with more curb appeal may be easier to sell than another property for sale in the same neighborhood with less curb appeal. Plus, it will catch the attention of more potential buyers and make them fall in love with your home.

Manage cost. The challenge is finding a balance between investment and reward. Spending too much decreases your ROI, yet going cheap could cost you more in corrections. Our Operations Manager suggested starting small and building your garden over time. It may be tempting to go all out and spend a lot of money, but adding elements to your garden over time will allow you to see what works and what doesn't, and will help you avoid pouring unnecessary money into your lawn. She also suggested finding cheaper alternatives to name brand lawn treatments. Newspaper works really well for blocking weeds in mulched flower beds and is much cheaper than the weed blocking fabric at Home Depot.

Your lawn is the first thing people see when they look at your home, and the choices you make for your outdoor decor can be a great way to express your personality and style. So whether you are a seasoned gardener, looking to sell your home, or trying to bring your lawn back to life, let us know how these hacks worked for you! There is no better feeling than soft grass under your bare feet on a warm summer day. You'll be proud to host picnics at your place this summer with a beautiful lawn that friends, family, kids, and pets can enjoy. Use these tips and we guarantee you'll be the envy of all your neighbors.
Remember to Try Agresti for all your Real Estate needs! Call us at 814-459-9400 or visit us online at www.TryAgresti.com