Back to School: Setting Goals for the Year (Plus a List of School in Your Area!)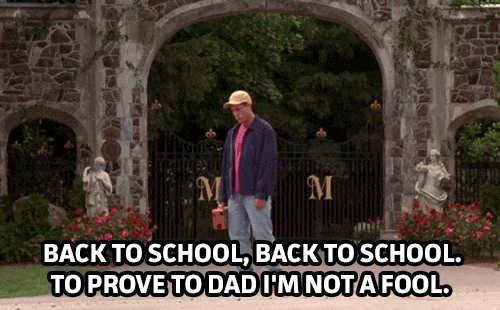 It's every parent's favorite time of year: back to school season! It is the perfect time for kids to set new goals for the upcoming year. Setting goals is an important lifelong skill to teach your children and can also allow you to be more involved in your child's education. It's also important to acknowledge the goals kid's have for themselves. They have expectations from their teachers, parents, coaches, etc, but adults should be asking what they want to learn as well. Use these tips to help your children reach their goals by the last day of school!
Brainstorm-Start by asking your child open ended questions and base the goals around their answers. Ask them to finish sentences like "when I grow up I want to be…" or "I want to learn to…." They will likely be more motivated to put in work for goals that interest them rather than things they think they "have" to do.
Write it out-Writing goals out on paper not only helps with organizing the steps to take to achieve the goals, but also serves as a reminder of what needs to be done on a daily basis to reach them. Have your kids check goals off as they complete them and the sense of accomplishment will push them to keep going.
Start small- Start by setting smaller, short term goals that will help achieve the larger overall goal. Kids won't be as intimidated by more attainable goals and will be more apt to complete them.
Make a schedule- Set aside a designated time nightly or a few times a week to work on goals. For 15 minutes before dinner work on multiplication problems. Or read for 20 minutes before bed. Life can get busy and it's easy for goals to fall by the wayside so be proactive and plan ahead.
Be specific and realistic- Goals can sometimes be broad and vague. Instead of having a goal to "be a better reader" set a goal to "read 10 books by the last day of school". You want to encourage your children to have big dreams and ambitions, but try to set goals that are attainable and appropriate for their age group.
Are you new to the area and looking to enroll your children into school? Here's a list of public schools near you to check out!
Erie School District
Elementary Schools-
Diehl Elementary: (814) 874-6585
Edison Elementary School: (814) 874-6470
Grover Cleveland Elementary School: (814) 874-6670
Harding Elementary School: (814) 874-6550
Jefferson Elementary School: (814) 874-6650
Joanna Connell Elementary School: (814) 874-6785
Lincoln Elementary School: (814) 874-6685
McKinley Elementary School: (814) 874-6870
Perry Elementary School: (814) 874-6485
Pfeiffer-Burleigh Elementary School: 814) 874-6750
Middle Schools-
East Middle School: (814) 874-6400
Strong Vincent Middle School: (814) 874-6500
Woodrow Wilson Middle School: (814) 874-6600
High Schools-
Erie High School: (814) 874-6200
Northwest Pennsylvania Collegiate Academy: (814) 874-6300
Millcreek School District
Elementary Schools-
Asbury Elementary School: (814) 836-6100
Belle Valley Elementary School: (814) 835-5600
Chestnut Hill Elementary School: (814) 835-5550
Grandview Elementary School: ​(814) 836-6300
Tracy Elementary School:​ (814) 835-5800
Middle Schools-
James S. Wilson Middle School: (814) 835-5500
Walnut Creek Middle School: (814) 835-5700
Westlake Middle School: ​(814) 835-5750
High Schools-
McDowell Intermediate: (814) 835-5487
McDowell High School: (814) 835-5403
Fairview School District
Elementary School-
Fairview Elementary School: (814) 474-3123
Middle School-
Fairview Middle School: (814) 474-2600
High School-
Fairview High School: (814) 474-2600
Harborcreek School District
Elementary Schools-
Rolling Ridge Elementary School:(814) 897-2100
Klein Elementary School:(814) 897-2100
Clark Elementary: (814) 897-2100
High Schools-
Harborcreek Junior High School: (814) 897-2100
Harborcreek Senior High School: (814) 897-2100
We hope these tips will bring you and your family success this school year! And remember to Try Agresti for all your Real Estate Needs! Call us at 814-459-9400 or visit us online at www.TryAgresti.com